Wrestling
Wrestle House 2 Thanksgiving Special Recap – IMPACT Wrestling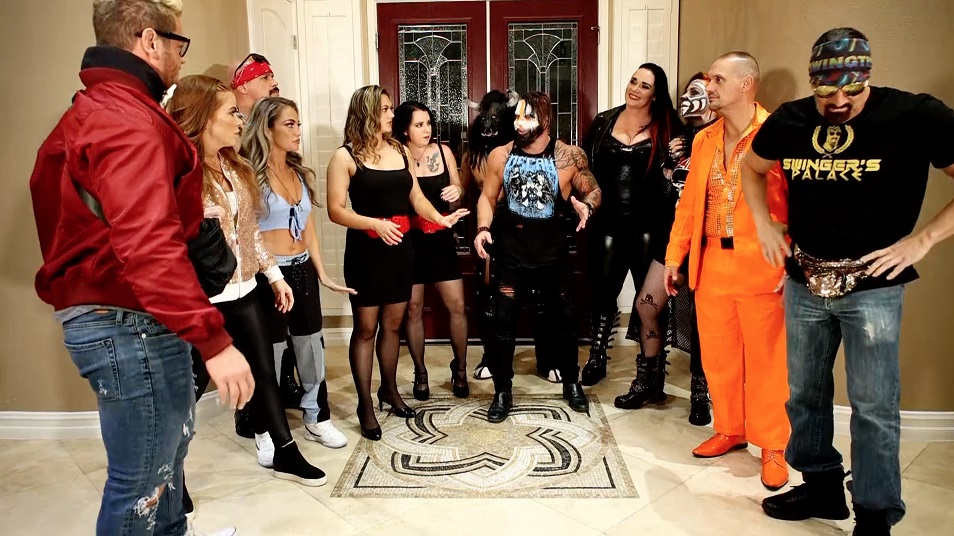 Wrestle House 2 Thanksgiving Special Recap
The hottest reality show in all of professional wrestling makes its highly-anticipated return with the Wrestle House 2 Thanksgiving Special!
After Swinger's Palace was forced to shut down, John E Bravo agreed to trade his soul to Decay in exchange for Johnny Swinger's happiness. Seven days away from Thanksgiving, Decay used their dark magic to teleport Johnny Swinger, John E Bravo, Madison Rayne, Kaleb With a K, Alisha, Hernandez and the Swingerellas to a new Wrestle House. After Swinger tries to escape, Rosemary reminds him that anyone who tries to leave before they're permitted will encounter their worst fears. Rosemary tells the rest of the group that they will stay at Wrestle House until Swinger is happy and thankful again. Chris Sabin walks out of the bathroom, claiming to have arrived early. Bravo expresses his concern to Rosemary that they will find out what's really going on here.
Kaleb With a K asks Swingerella #2 Riley if she's ever modelled before. As it becomes apparent that Kaleb has a crush on her, Sabin interrupts their conversation. Jealous of Sabin's physique, Kaleb challenges him to a match and the entire cast is teleported to an arena!
Chris Sabin vs Kaleb With a K
Father James Mitchell, Dr. Ross and Sinn Bodhi are on commentary for the night's first action. Sabin has Kaleb reeling with a series of arm drags. Dr. Ross notes that his shoulder socket will be permanently damaged after being on the receiving end of moves like that. Kaleb turns it around and takes a selfie with Sabin, all while maintaining a submission maneuver. Sabin hits the Cradle Shock to win the first match of Wrestle House 2!
Chris Sabin def Kaleb With a K
Five days away from Thanksgiving, Rosemary and Havok reveal that they will temporarily be leaving Wrestle House to challenge The IInspiration for the Knockouts World Tag Team Titles at Turning Point. Chris Sabin will also be leaving for his rematch with Ace Austin at the event. Madison Rayne and Alisha Edwards put their differences aside in order to come up with a plan so they can help Swinger and leave Wrestle House. They teleport Downtown Daddy Brown from IPWF and reunite him with Swinger but the relationship between the two former friends has clearly changed. Brown is furious at him for sleeping with his step-daughter, leading to the second match of Wrestle House 2!
Johnny Swinger vs Downtown Daddy Brown
Brown pummels Swinger on the ropes with a flurry of fists. Swinger distracts the referee and delivers a thumb to the eye of Brown to gain control. Swinger soars off the top but Willie cuts him off in mid-air with a shot to the bread basket. Swinger pushes Brown into the referee, knocking him down to the mat. Swinger uses Brown's cane as a weapon but it's not enough to keep him down. Brown soars through the air with an elbow drop to put Swinger away for three.
Downtown Daddy Brown def Johnny Swinger
Back at Wrestle House, Alisha accidently reveals to Johnny Swinger the true reason why they're all at Wrestle House. Swinger storms off and it appears as though he won't be happy and thankful anytime soon. Madison Rayne draws a line in the sand as the house is divided into people want to help Swinger and people that don't. Alisha has Rosemary teleport Eddie Edwards into the house for a five-on-five match where if Madison's team is victorious, they will win their way out of Wrestle House. Chris Sabin loves this match and it's on!
Rosemary, Havok, Crazzy Steve, Black Taurus & Chris Sabin vs Madison Rayne, Kaleb With a K, Hernandez, Alisha & Eddie Edwards
Havok and Rosemary deliver a double clothesline to Alisha. Havok intimidates Madison with her terrifying presence before hitting a big running splash. The pace quickens when Taurus enters the fray, driving his horns into the solar plexus of Kaleb. Team Decay fight off a five person suplex attempt and bite their opponents in return. Rosemary spears Alisha to win the match, meaning Team Madison must remain in Wrestle House!
Rosemary, Havok, Crazzy Steve, Black Taurus & Chris Sabin def Madison Rayne, Kaleb With a K, Hernandez, Alisha & Eddie Edwards
Rosemary becomes aware that Swingerella #1 has a crush on Johnny Swinger and believes she may be the key to his happiness. The plan is to make Swinger jealous in hopes that he will develop feelings for her. Lawrence D is brought in as her fake boyfriend and is revealed to be the owner of this Wrestle House. Unfortunately, the ruse doesn't grab Swinger's attention and it's back to the drawing board.
On a special Wrestle House edition of Madison Rayne's Locker Room Talk, The Demon impersonates one of Johnny Swinger's idols, Gene Simmons, and tells him to find the woman he loves in order to achieve happiness.
Two days away from Thanksgiving, Johnny Swinger approaches Swingerella #1 and confesses his love for her. But after Lawrence D pretended to be her boyfriend, he developed true feelings for her too, leading to a match between the two for Swingerlla #1's love!
Johnny Swinger vs Lawrence D
Swinger resorts to breaking the rules right away and rakes the eyes. Lawrence comes back with a jab to the chest as Orthopedic Surgeon Dr. Ross recommends orthopedic surgery for Swinger. Swinger gets hit boot up on a top rope splash attempt. Lawrence sprays Swinger with the putrid ring rust cologne but gets caught red-handed by referee John E Bravo. Swinger throws powder in Lawrence D's face, then hits the swinging neckbreaker to win!
Johnny Swinger def Lawrence D
After the match, Swinger asks Swingerella #1 to join him in the ring. Swinger proposes to her and she says yes! Everyone thinks they can now leave Wrestle House but Rosemary says nobody is going anywhere until they get to the altar.
One day away from Thanksgiving, Hernandez finds out about Rosemary's plan to steal John E Bravo's soul. Hernandez says he's not going to let that happen when he's teleported into a match against Black Taurus!
Hernandez vs Black Taurus
Hernandez goes low on Taurus and as Sin Bodhi says on commentary, "kicks him right in the bulls". Hernandez charges into the corner with a splash, followed by a running senton. Hernandez attempts the Border Toss but Taurus avoids it. Taurus rips Hernandez's pants and rolls him up to score the three count!
Black Taurus def Hernandez
Rosemary places a spell on Hernandez that makes him think it's 2006 and he's part of LAX again!
It's Thanksgiving Day and time for the wedding of Johnny Swinger and Swingerella #1. Eddie Edwards overhears Decay and John E Bravo speaking of their deal and threatens to tell everyone. This time, Rosemary places a spell on him and sends him back to when he was drunk at the wedding of Brian Cage and Melissa Santos!
Father James Mitchell officiates the wedding but just when it seems like everything is going according to plan, it begins to break down. A drunk Eddie Edwards stumbles up to the altar and tells Alisha of Decay's plan to kill John E Bravo. Rosemary finally opens up to the group but says that Bravo agreed to the plan in order to make Johnny Swinger happy. Bravo also reveals that he outsmarted Decay because he no longer has virgin blood. Swingerella #1 drops a bombshell as she tells everyone that the reason Bravo doesn't have virgin blood anymore is because they slept together. Swinger seems relieved and leaves the altar but that doesn't mean there won't be a wedding tonight. Bravo proposes to Swingerella #1 and they get married on the spot!
At Thanksgiving dinner, Swinger tells the entire cast of Wrestle House that he is thankful and happy that John E Bravo saved him from getting married tonight. The group enjoys their meal together as the Wrestle House 2 Thanksgiving Special goes off the air.