Netherlands v Argentina Prediction: World Cup | 09.12.2022 – 22bet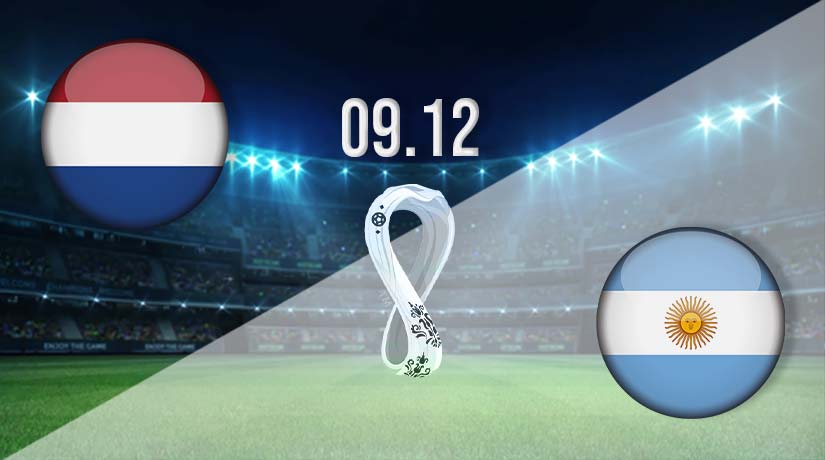 World Cup 2022 has arrived at its quarter-final stage as the best eight teams battle for a slot in the final four. There's all to play for here, and with extra time and penalties available, if required, every game will produce a winner and a loser. Prepare to live your weekend on a knife edge, football fans. We're in for a thriller, starting on Friday when Croatia plays Brazil before the Netherlands and Argentina go toe-to-toe. Read on for our in-depth preview of the 19:00 GMT kick-off.
Two of the biggest teams in Qatar meet, and it would be no surprise if the winner of this match were to go on and lift the trophy. The Netherlands haven't always been perfect at the winter World Cup, but they have shown us glimpses of their potential, and we love what we've seen. The Orange are a tactical team who are patient on the ball and willing to play the waiting game. Louis van Gaal's has been criticised by some for a "boring approach," but it is a successful one. At least so far.
Then we have an Argentina side that was slow out of the traps, caught cold by a plucky Saudi Arabian side. They caused one of the competition's biggest upsets in recent years when fighting back from a goal down to win the match 2-1. Critics suggested that Argentina could be this year's surprise early exit, but that was Germany. But the Netherlands and Argentina have ridden their luck sometimes in the Arab World. But which is about to run of good fortune?
The Netherlands won its group
Big things were expected of the Netherlands in Qatar after years of uncertainty. And they set out their stall early by winning Group A with room to spare. Pole position was always the target, but other big-name teams failed to get through their group campaigns without defeat. The Dutch deserve credit for a professional job, ensuring they avoid the embarrassment of going home early. We don't think manager van Gaal would have survived an early exit. Thankfully, the legendary boss didn't get to find out. His tactics aren't universally popular, but the results have been.
The Netherlands posted stats of two wins and a draw from their three group games, collecting seven points from the nine available. They scored five goals and conceded just one, giving followers an idea of what to expect from this team in Qatar. They're comfortable with or without possession of the football. They create chances and have the forwards to score goals. This well-oiled Dutch machine has been working tirelessly but will be tested to the max on Friday. The players know this and are ready for the challenge.
We last saw the Netherlands in action in the Round of 16 last Saturday, beating the USA 3-1. It was a masterclass in total football, allowing their opponents to move around the pitch, waiting to  challenge, picking up the loose balls, and releasing the attackers. Depay scored the opening goal on 10 minutes before Blind added a vital second just before the interval. There was a third goal in a dominant display for the Netherlands. Dumfries fired back to keep the USA down and out of the game even after Wright had hit a consolation goal on 76 minutes.
Argentina responds to a slow start
Argentina's loss to Saudi Arabia in their opening game was the worst possible start for a team fancied by many to win the tournament. They took the lead through Lionel Messi that day, and the assumption was the floodgates would swing open, and they'd get four or five. But the Saudis hadn't read the script and fought back to win 2-1. That results will be remembered as one of the most famous from the winter World Cup and will stick with Argentina unless they lift the trophy.
It wasn't the opener they had been dreaming of, but quality players don't get too hung up on defeats, taking little from them other than the lessons. Argentina responded how you would have expected them to by going on a winning run. They claimed six points from their next two pool matches to win the group and face Australia in the Round of 16. That was a potential banana skin pre-match, with many experts suggesting we'd find out what Argentina is made of against Australia. And what they are made of is habitual winners.
The nation kept their dreams of World Cup glory alive by beating the Aussies 2-1 in knockout football with the goals scored by Messi and Alvarez. The game was 2-0 and heading towards an uninspiring finish, but Australia knocked in a late consolation goal to keep the final score respectable. But it flattered the beaten team, who were out-played, out-thought, and out-muscled by an opponent that's only now beginning to hit its stride. There's more to come from Argentina, and we'll see them raise the bar against the Netherlands. They have no other option. Anything but their best might hand victory to the Orange.
Netherlands v Argentina prediction
This will be the tenth time these sides have met in competitive action, and the head-to-head stats make for exciting reading. Argentina has managed just one win in a run stretching back to 1974 when the pair first met in a friendly match. The spare win came in 1978 when Argentina beat the Netherlands 3-1 at the World Cup, with Mario Kempes scoring two goals.
The most recent game produced a goalless finish at World Cup 2014, and that was the second match on the bounce where this fixture ended 0-0. Looking back further, there has been just one goal scored in the last three, and half of the last six have ended with both sides drawing a blank. This could be another tense and nervy affair.
World Cup odds
The pre-match betting odds offered by 22bet have the Netherlands trading at 3.58 for victory while Argentina is 2.205. A third draw in three will earn you a shot at 3.112 if you can't split the teams.
Make sure to bet on Netherlands v Argentina with 22Bet!