Football
Charles De Ketelaere: The Star Boy Of Belgium's Next Golden Generation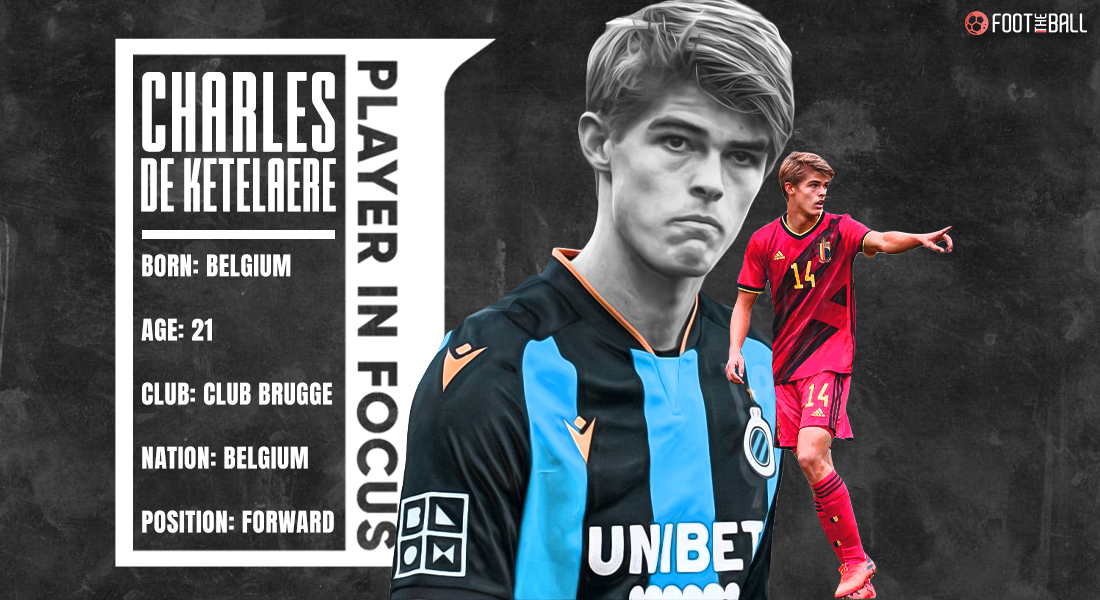 Clubs in Belgium have always been pioneers in developing young talent. It is no surprise that the current crop of Red Devils is termed the 'Golden Generation.' The likes of Kevin De Bruyne, Thibaut Courtois, Axel Witsel, and others all had their beginnings in the Belgian first division.
Therefore, it is no surprise that there is a new generation of players ready to take Europe by storm. One of the leaders in that regard is Club Brugge forward Charles De Ketelaere.
Belgium's next Golden Generation is here and they are ready for the big things
He has formed a terrific partnership with another bright light, Noa Lang. De Ketelaere's performances in 2021-22 are attracting plenty of attention, and he will be on the move soon. Whichever club ends up getting De Ketelaere will be signing a gem for many years to come.
Versatile king
One of the most impressive things about Charles De Ketelaere is his versatility. Apart from his main striker position, the 19-year-old has played on both flanks and in behind the main forwards. That kind of positional adaptability is a big boon for his prospects. His 6'3″ frame is another bonus.
De Ketelaere uses his tall frame to burst past defenders, making him hard to stop fairly. Moreover, Club Brugge have not been been shy to use De Ketelaere as the linkup player, with Lang playing off the shoulder. Thus, they have both the bases covered in terms of attacking opponents.
De Ketelaere has is also no slouch on the defensive end of things. According to FBref, he applied 22.14 pressures and made 1.27 tackles per 90 in 2021-22. That put him in the 95th and 91st percentile amongst players in Europe.
15 – Charles De Ketelaere (born in 2001) is the only player born after 1/1/2000 able to score already at least 15 goals and to provide at least 15 assists in the Belgian Jupiler Pro League (19 goals and 16 assists in total for him). Diamond. pic.twitter.com/UMC7z5ZSPy

— OptaPaolo 🏆 (@OptaPaolo) June 13, 2022
Therefore, his team can sustain a high level of pressing right from the attackers themselves. De Ketelaere has also been a fruitful presence for Club Brugge on the field.
He recorded a +/- per 90 of (+0.99), meaning the team performed better when he was playing. The same will be even clearer once his stats are looked at in-depth.
Charles De Ketelaere stats
14 goals and nine assists in the Belgian top-flight, alongside a further four strikes in the domestic cup. De Ketelaere certainly had his breakout season, and all his key metrics are great. He averaged 3.45 progressive passes per 90, which placed him in the top 96th percentile.
Jason Denayer has taken the necessary step up to become a worthy replacement for Vincent Kompany in the national team
Additionally, he also had 8.89 progressive passes received per 90, good enough for the 85th percentile. De Ketelaere is an efficient shooter with a shot on-target percentage of 42.5%. His 14 goals in the First Division A came from just 31 shots on target. As mentioned above, his height helps him win fouls with 56 in 2021-22.
De Ketelaere is also a dribbler, with 54.5% completed, out of 101 attempted (Soccerment). In the same vein, he has also had success in duels, winning 52.1% out of 403 attempted.
Charles De Ketelaere scout report
Apart from his goal-scoring prowess and advanced position, there are a few things to note. Firstly, things that could be improved. De Ketelaere is woeful at crossing, completing just 21.3% of his 75 attempted crosses (Soccerment).
Therefore, it is clear that he likes to play through the middle, where he can get the ball into his feet. Similarly, a pass success ratio of 74.1% (FBref) will simply not cut it in a top-five league. However, along with the bad comes the good. Apart from the things mentioned above, De Ketelaere has the bonus of playing in the Champions League.
De Ketelaere's developed from a supporting wide attacker into a forward that strains defences from most angles and situations. He runs into depth, slips off blindsides, shoots off dribbles, gets onto crosses – flexible and effective. He's going to go a long way.

— Scouted Football (@scoutedftbl) December 17, 2021
Europe's premier club competition is a dream for players, and 2021-22 was particularly challenging. Club Brugge played against the likes of Manchester City, PSG, and RB Leipzig. Although they were shellacked in four out of six games, De Ketelaere's performances were rightfully praised.
Belgium had a miracle run at UEFA Euro 1980, which remains their best result in the tournament
His speed and technical ability will be a problem to handle, as he can also help his teammates in attack. Additionally, he has also played for the Belgian senior team, scoring his debut goal in the third-place playoff of the UEFA Nations League in 2021.
Charles De Ketelaere transfer news
A player with eight man-of-the-match awards in one season is bound to generate interest. De Ketelaere is being monitored by Leeds United, AC Milan, and a few other clubs. Needless to say, De Ketelaere will not be with Club Brugge for much longer. He will have the luxury to choose his next club, based on several factors.
With the 2022 FIFA World Cup in Qatar on the horizon, playing time is a key component. Regular performances and scoring consistency will decide his game time in Qatar. Therefore, De Ketelaere is the next big thing out of Belgium and on his way to becoming a household name.