Sports
FC Porto v AC Milan Prediction: Champions League | 19.10.2021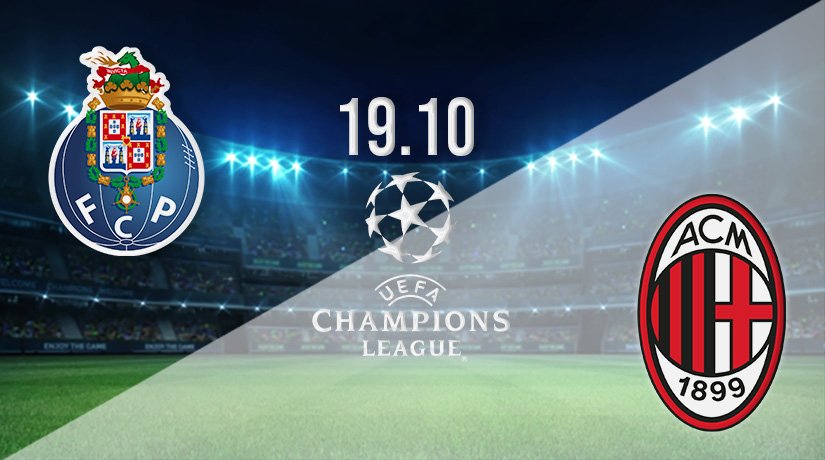 We have arrived at round three of this season's Champions League group matches and the various pools are beginning to take shape, with the best teams pulling clear of the chasing pack. A game of note from Tuesday's schedule comes from Group B, where FC Porto and AC Milan lock horns from 20:00 GMT, and armchair fans can follow all the action live on television. This won't feature at the top of many football lovers' watch list, but it is a game that is important to supporters of Liverpool. While the Reds are away to nearest rivals Atletico Madrid in Spain, the other two teams aim to take advantage with Porto and Milan chasing three points that could prove crucial come the final tally.
FC Porto are currently second from the bottom of the pile with only AC Milan worse off after two games played. It may still be very early in the season, but defeat here could wreck either team's chances of challenging for a top-two finish and place in the knockout round of the tournament. AC Milan are in real danger of drifting off and having nothing to play for in the second half of the campaign. That's something the Serie A big guns must avoid at all costs.
FC Porto and AC Milan are no strangers to meeting in competitive action, and Tuesday's game will be the tenth time the sides have clashed. The current head to head stats favour the Italians, with AC Milan on four wins with four draws and one for Porto. The most recent pairing served up a 1-0 win for Milan in 2003 in the European Super Cup when Andrei Shevchenko scored the winning goal. Interestingly, there has been no more than one goal between the sides in the last four games, a run that stretches back to 1993. Will we see another competitive contest?
Victory would keep Porto in the hunt
Porto may be sitting in the Europa League position with a third-place finish forcing them down to UEFA's second string tournament, but there's still hope and still time to turn things around. Victory at home on matchday three would certainly help swing things in their favour, especially if Liverpool were to maintain their 100% record by beating Atletico Madrid in Spain. FC Porto have played two, lost one and drawn one game so far. They've scored one goal and conceded five, which suggests the writing is already on the wall, and they were out of their depth at this level. If Porto are to turn things around, they must work hard on improving that leaky defence and fast.
The locals did get off to a strong start and performed much better than expected in their opening game when drawing 0-0 away to Atletico Madrid. Visiting the Spanish champions was a tough start, and most football fans expected them to lose the game, but they battled to the finish and pushed Madrid to a 0-0 draw, taking a well-earned point from the contest. Porto rode their luck at times in Spain but critics couldn't deny they put in the effort and worked hard for a share of the spoils.
Fans had hoped to see the defence stand firm against the might of the Liverpool attack at this venue on matchday two, but they fell apart with the Reds blasting their way to a stunning 5-1 victory on the road. It was a painful evening for the beaten team, who were taught a harsh lesson, but the players must learn from their failings there and bounce back stronger. They did breach Jurgen Klopp's defence with a goal from Taremi on 74 minutes, but it was little consolation after doubles from Salah and Firmino, with Mane getting the spare.
Milan must improve and fast
AC Milan entered this season's Champions League group campaign hoping to battle Liverpool and Atletico Madrid for pole position. They may still do that, but the Italians would need a huge effort just to remain in the running for a qualification place after a disastrous start. The visitors travel having played two and lost two, scoring three goals and conceding five. The zero points claimed from a possible six leaves them stuck to the bottom of the league, one point off behind their opponents.
It has been disappointing for AC Milan fans to watch, but they now face FC Porto back to back, starting away from home before inviting their opponents to Italy on matchday four. If AC Milan can record two wins on the bounce, it would catapult them above their opponents in the pool and into contention for knockout football. If Liverpool were to do Milan a favour and beat Atletico Madrid home and away, it would make the race for second place even more exciting. Milan must concentrate on what they can control, taking one game at a time.
AC Milan have played two and won two so far this month, taking six Serie A points thanks to a pair of 3-2 victories. The first came on the road against a talented Atalanta team earlier this month before using home advantage to beat Hellas Verona by the odd goal in five at the weekend. Six goals scored is encouraging for the attack, but four conceded in those two matches will keep the coaching staff and fans awake at night.
FC Porto v AC Milan prediction
FC Porto enters this match under no illusions. They must make home advantage count and take at least a point from the game. A win would keep them in the running for a top-two finish, but they will also have an interest in how Liverpool get on in Madrid. Porto will aim to stick the boot into an opponent that is low on confidence and already fearful for their place in the next round. The locals can make that count for them, and if they score early, they would ramp up the pressure on the Italian side.
AC Milan will be honest enough to admit they haven't been good enough in this group so far and are where they deserve to be in the division. They have time on their hands at this stage, but if they were to lose in Porto, it would all be over, with little if any chance remaining of them playing in the Champions League next year. This is a tense situation, but the players must remain cool, calm and focussed. If they get the win here, they're right back in the running, and three points on the road isn't impossible.
Champions League odds
The pre-match betting odds available at 22bet on this game has FC Porto trading at 2.456 in the win market with AC Milan 2.86, and the draw chalked up at 3.38.
Make sure to bet on FC Porto v AC Milan with 22Bet!