Poker
World Cup Fever Hits Natural8 with Unique Bet & Go Tournaments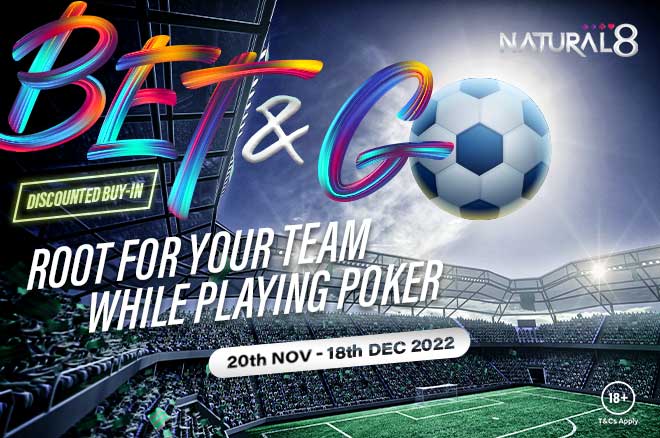 World Cup fever is sweeping the globe, with millions of people glued to their television screens to see if their nation can go the distance in the biggest sporting tournament in the world. And to give soccer-loving poker players a unique World Cup experience, the folks at Natural8 have rolled out their unique and exciting Bet & Go Tournaments.
The special tournaments will run until December 18 and, for the moment, each one is linked to an upcoming soccer game.
How Bet & Go Tournaments Work
The uniqueness of Bet & Go is also in its buy-in format. Before the linked sports event starts, you can buy in at a discount. The discount is based on your supported team's odds of winning and will be available until the final whistle blows.
The difference is that, once the linked event starts, the odds will be updated in real-time to reflect the current results, so the buy-ins will also change accordingly. If you don't want to pick a team, you can buy in at the regular price after the linked event has concluded.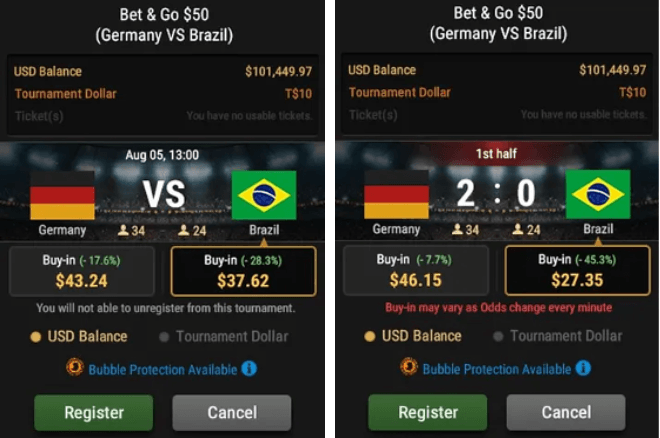 Here's the twist of the Bet & Go tournament; if the team that you supported loses the match, you will be knocked out of the poker tournament regardless of how many chips you have.
But don't worry! You can always rebuy at the original buy-in, as well as switch teams. On the other hand, if your team wins or ends up in a draw, the tournament will continue as a normal NLH tournament.
Find out more about Bet & Go tournaments on Natural8's site.
8 Famous Footballers Who Play Poker
Get Rewarded with Natural8's Fish Buffet and Honeymoon Missions
Sign up for a Natural8 account today and get rewarded while supporting your favorite sports team and playing your favorite games. All new Natural8 players will automatically be eligible for the Fish Buffet Rewards Programme, where you can collect up to 60% cashback just by playing your favorite games.
In addition to cashback, you will also be able to challenge the Honeymoon for Newcomers. Complete 30 missions within 30 days and win up to $350 in prizes!
Don't Miss Out on these Natural8 Welcome Offers
Natural8 is Asia's largest online poker room and geared toward recreational players. A skin on the reputable GGPoker Network, Natural8 is fully licensed and authorized. Anyone can join for free, and there are no hidden fees.
On top of the $120 million guaranteed prize pool for tournaments every month, Natural8 also offers plenty of promotions for new players. These specials amount to a total of $1,858 – easily one of the best in the online poker scene – and include: