Poker
Make 2021 Your Year with The WPT GTO Trainer (MEMBERSHIP SALE!)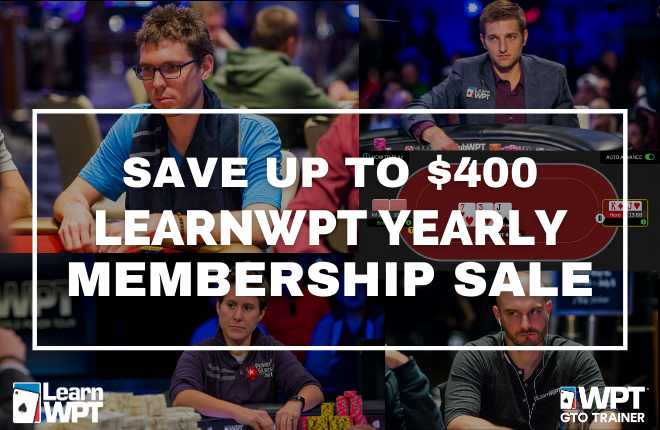 Can You Become a Winning Player in 2021? The short and simple answer is – YES.
Don't let those players at your table who claim the game is too tough, the strategies are too advanced, and only the young guns can thrive in today's modern no-limit hold'em games, discourage you from making 2021 your year!
Whether you are brand new to poker training or you're an experienced student you'll love the value you get from a LearnWPT membership and the skills you'll sharpen with the WPT GTO Trainer. Innovative features such as our Train & Explain Series of episodes put you in the pros seat as you play real solved GTO hands and learn the why behind the correct play.
---
Try out your skills right now by playing 5 solved hands and listening to the pro analysis!
---
The LearnWPT team is finishing 2020 strong and ready to help you charge into 2021 fully prepared to upgrade your game and become a better poker player. Now you can take advantage of exclusive savings on LearnWPT Yearly Memberships featuring the revolutionary WPT GTO Trainer with this special offer!
Join LearnWPT right now for just $5 and upgrade to a Gold or Platinum Yearly Membership and you'll get a whole year of interactive poker training services at a deep discount.
Building a Feedback Loop with Proven Winners
No-Limit Hold'em is constantly evolving. The world's best players are finding ways to maximize value and exploit opponents on a daily basis. So how can you stay on top of the competition and produce the results you are looking for?
The key to success in poker is to have a reliable feedback loop for your play, with proven winners as your sounding board. The feedback loop you use to improve your play, much like the input of a solver, is only as good as the input.
LearnWPT is focused on making your feedback loop easy to start and maintain with our popular Ask a Pro Feature. Members can share hands using the Hand Input Tool (HIT) and post detailed questions on your play for the LearnWPT Pros to answer in detail. You can even share hands played directly from the WPT GTO Trainer to Ask a Pro and get direct feedback on your decisions.
Go From Zero to GTO – And Save!
Jumpstarting your game in 2021 doesn't have to be complicated – or expensive.
With the WPT GTO Trainer you can play actual poker hands from practically anywhere and steadily add depth and nuance to your decision making. Practice your most damaging leaks with direct expert feedback and start learning Game Theory Optimal play by doing.
Players of all skill levels recognize the need to incorporate GTO strategy but often struggle with how to implement the mixed strategies and memorize the various bet sizes. No matter how you learn best, LearnWPT provides in-depth training tools that accelerate your learning and make the game fun, allowing you to incorporate these strategies without breaking your game.
Aside from making sure your poker strategy is solid, LearnWPT is making sure investing in your poker education isn't breaking your bank account either. We're giving members the opportunity to go yearly and save big. For a limited time members can upgrade to a Gold Yearly Membership for only $388 (normally $588) or go big and purchase a Yearly Platinum Membership for only $596 (normally $996).
Don't waste this opportunity to make 2021 your year with these savings from LearnWPT featuring the WPT GTO Trainer!