Latest 888poker Mystery Bounty Main Event Highlights How Special This Format Is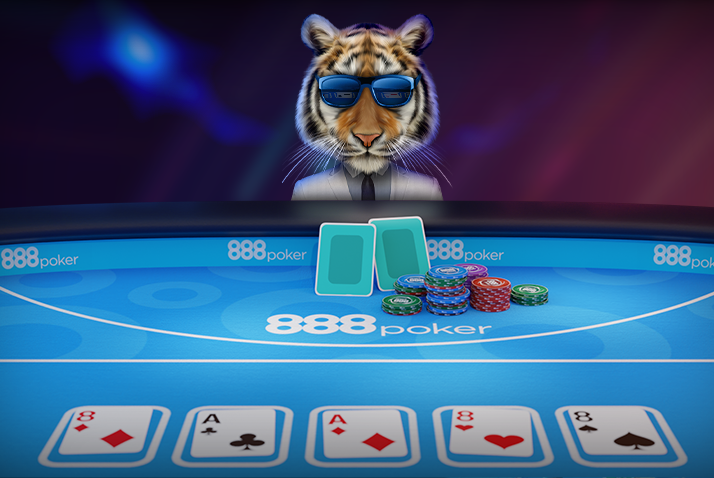 888poker's latest $100,000 guaranteed Mystery Bounty Main Event highlighted how cool this popular format is, with a player that did not even reach the money places walking away with the tournament's largest haul!
Some 1,071 entries were processed, resulting in a guarantee-busting $107,100 prize pool. Ukraine's "freeeeeeeeak" was one of those entrants. The Ukrainian made it past the 18th level, which is where the mystery bounties came into play. Although they busted in 190th place, with 144 places paid, freeeeeeeeak managed to eliminate an opponent that had a whopping $10,000 mystery bounty on their head, and that $10,000 was enough to become this tournament's biggest winner!
The 107th place finisher, "HvalaLama" pulled out a $3,000 bounty before they crashed out, while "Fever105" also bagged a $3,000 bounty on their way to an impressive sixth place finish.
$100,000 Mystery Bounty Main Event Final Table Results
| Place | Player | Country | Bounties | Prize | Total Prize |
| --- | --- | --- | --- | --- | --- |
| 1 | equalize1 | Brazil | $687 | $8,839 | $9,526 |
| 2 | apithanos8 | Cyprus | $881 | $6,446 | $7,328 |
| 3 | CRBDOUGLAS | Brazil | $487 | $4,739 | $5,226 |
| 4 | ashleywardy | United Kingdom | $264 | $3,511 | $3,775 |
| 5 | Santa.Muerte | Ukraine | $1,085 | $2,598 | $3,683 |
| 6 | Fever105 | Ecuador | $4,014 | $1,941 | $5,955 |
| 7 | BalticMouse | Lithuania | $430 | $1,461 | $1,891 |
| 8 | pvss10 | Brazil | $1,024 | $1,017 | $2,132 |
| 9 | arod1214 |   | $340 | $845 | $1,185 |
The nine finalists sat down under the watchful eyes of the excellent 888poker Twitch stream. The opening ten minutes saw the players get a feel for how one another was playing, before a big hand occurred that resulted in the first elimination.
"CRBDOUGLAS" min-raised with ace-jack of clubs, and then called when "arod1214" three-bet all-in for 12 big blinds from a couple of seats across. CRBDOUGLAS needed to hit the board because arod1214 was all-in with pocket queens. Hit, they did with an ace as the door card. Game over for arod1214.
"pvss10" was the chip leader when eight-handed play began, yet they were still the next player heading out of the door. They lost a few pots, and saw their stack dwindle to a little over 18.5 big blinds after paying the big blind. Those chips when into the middle after three-bet shoving with ace-king over a min-raise from "equalize1" in the cutoff. It was ace-king versus pocket jacks, and those jacks flopped a set before turning a full house, to reduce the player count by one.
888poker Casts The Wizard's Spell and Gives Away $300,000
The final seven became six with the elimination of "BalticMouse" of Lithuania. The Lithuanian had been nursing a short stack for a while, and was down to only five big blinds before the busted. equalize1 min-raised with ace-queen from under the gun, and BalticMouse called with king-four of hearts in the big blind. All the chips went in on the turn, with both players having paired their ace and king, respectively. No four landed on the turn, and BalticMouse had been caught.
Sixth place went to "Fever105", netting $5,955 in total thanks, in part, to a $4,014 bounty payment. Fever105 open-shoved for 3.5 big blinds with pocket threes, and fellow short-stack "Santa.Muerte" called with ace-queen. An ace on the flop was not what Fever105 wanted to see, and their participation in this event ended.
That hand bolstered Santa.Muerte's stack, but they did not progress deeper than fifth place. They found themselves down to 9.5 big blinds with a pair of nines in the hole and decided to three-bet all-in over the top of a min-raise from CRBDOUGLAS, which they made with ace-queen. CRBDOUGLAS spiked a queen on the flop and an ace on the turn, to leave only four players in the hunt for the title.
888poker Steps Up War Against AI in Poker; Refunds Almost $300K in 2022
Third place went to "ashleywardy" of the United Kingdom. The Brit committed their last 3.7 big blinds from the button with ace-six of hearts, "apithanos8" called in the small blind with ace-deuce, only for CRBDOUGLAS to squeeze all-in for 24 big blinds with ace-queen. apithanos08 ducked out of the way, and ashleywardy fell by the wayside courtesy of a queen on the turn.
Heads-up was set when CRBDOUGLAS bowed out after losing a coinflip. CRBDOUGLAS min-raised on the button with ace-king of spades, equalize1 called in the small blind with ace-five of clubs, only for apithanos08 to make it six big blinds to go, with pocket queens. CRBDOUGLAS moved all-in for 17.4 big blinds in total, and apithanos08 called once equalize1 ducked out of the way. The queens held, and CRBDOUGLAS crashed out in third.
apithanos08 held a 52.6 to 27.7 big blind advantage at the start of heads-up. equalize1 clawed their back level before slipping behind, then coming back and claiming the chip lead. The final hand essentially played itself with the stack sizes in play. equalize1 min-raised with king-queen of diamonds, apithanos08 shoved for 22 big blinds with pocket nines, and was called. Three diamonds on the first three community cards left apithanos08 drawing dead, resigning them to a second-place finish, and leaving equalize1 to become the latest $100,000 Mystery Bounty Main Event champion.
888poker: Vivian Saliba's Top 5 Tips for Building an Online Bankroll
Win Your Way Into the March 19 Edition of the $100K Mystery Bounty Main Event
March 19 at 7:00 p.m. GMT is your next chance to compete in the $100,000 Mystery Bounty Main Event at 888poker. Don't worry of the $109 buy-in is outside the constraints of your bankroll because there is a plethora of satellites running throughout the week.
Those of you that are VIP Level 40 or above can play in a special freeroll tournament at 3:45 p.m. GMT on March 18 that has 50x $109 seats guaranteed! Good luck if you are involved in that.
$88 Free Plus a $400 Welcome Bonus
You're going to need an 888poker account if you want to be in with a chance of winning an 888poker LIVE package, so now is the perfect time to join 888poker if you have not already done so. Download 888poker via PokerNews, create your free account, and 888poker will give you a free $88 worth of cash game and tournament tickets – this is a free £20 for residents of the United Kingdom – just for reaching this stage.
Your first deposit is matched 100% up to $400 in the form of a releasable bonus. You have 90 days to release as much bonus as you can. Contact 888poker support for more details.