Poker
Jason Koon Benefits from Card Distribution and Dominates Hellmuth for $1.6m
Phil Hellmuth dropped to 9-2 on PokerGO's High Stakes Duel show, losing the $1.6 million round to Jason Koon, who outplayed his opponent and also ran red hot.
The first match between the two poker stars Wednesday evening lasted less than three hours, shorter than most High Stakes Duel matches. Koon, making his first appearance on the heads-up poker show, was dominant and showed the poker world why he'll one day reach the Poker Hall of Fame.
Hellmuth didn't play his best against what some would argue was his toughest High Stakes Duel opponent. But he also couldn't catch a hand if his life depended on it.
Koon stepped into Round 5 of High Stakes Duel III, paying $800,000 to enter, in place of Scott Seiver, who lost to Hellmuth in Round 4 and then backed out of the rematch last-minute back in August.
Great Early Battle
Right off the bat, Hellmuth attempted to set the tone by showing some aggression. Both players started with 800,000 chips and the 30-minute blind levels opened at 1,000-2,000. The "Poker Brat" won a couple of small pots in the early goings on bluffs, but the match would quickly turn the other way.
Hellmuth did benefit from some early breaks, a few times going runner-runner for a straight to win some small pots. And then he found the absolute worst time to get creative with
when he five-bet to 260,000 preflop only for his opponent, who was holding
, to move all in. The 16-time World Series of Poker bracelet winner was forced to fold and dropped down to nearly a 2-1 chip disadvantage.
Moments later, Hellmuth would river the nut flush to win a crucial 270,000-chip pot and move back into contention. He would grind away over the next 15-20 minutes and nearly pull even before it all unraveled.
Koon Begins to Pounce
Just over an hour into the match, Koon picked up pocket aces for the second time. This time, he didn't get any action, but that's sort of how the match went. The GGPoker ambassador hit 8-10 premium preflop hands — (aces twice, ace-king, ace-queen three times, ace-jack, pocket 10's, pocket 9's, and a few small pocket pairs) — while Hellmuth couldn't find a premium.
But this is heads up poker where aggression and timing often pays off, even if the card distribution isn't equal. Unfortunately, for the WSOP bracelet record-holder, his aggression proved costly because his timing was off.
Take, for example, the following hand: Koon raised to 10,000 preflop with
before his opponent three-bet to 32,000 with
, once again trying to force the action with a mediocre hand. The flop would come out
and both players checked to see the
on the turn, giving Koon top two pair, and Hellmuth would bet it for him (14,000). He made the call and when the
appeared on the river, they each checked and Koon took down a 92,000-chip pot to extend his lead.
Moments later, Hellmuth three-bet with
again but ran into
and ended up losing a monster pot following a failed bluff attempt into ace-high on the turn.
Not long after, Hellmuth couldn't find a fold on a four-to-a-straight board with a rivered second pair facing a 56,000-chip bet. Koon, who flopped middle pair, rivered the straight and sent Hellmuth down to just 300,000 chips.
Koon would then make a world-class play with pocket deuces on a board of
when he bet out 60,000 and forced his opponent to muck a pair of 7's to win a pot of 160,000.
Hellmuth Can't Win a Pot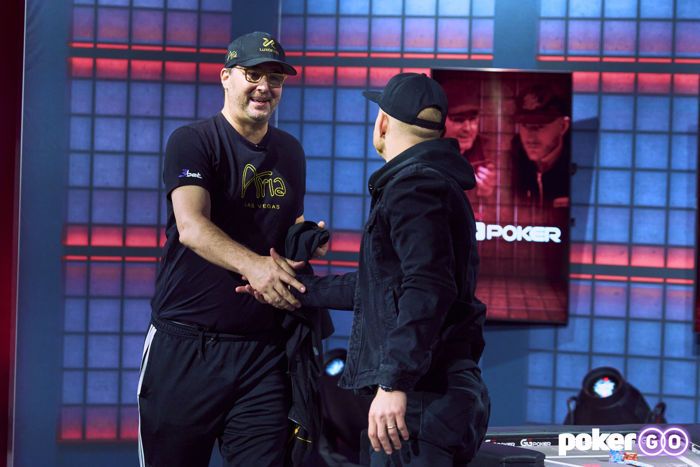 With Hellmuth's stack dwindling down to under 50 big blinds, he was still in it despite a massive deficit. But he just could not build up any momentum. Every time it appeared he might have been slowly chipping away, he'd lose another sizable pot.
He did, however, get through one solid bluff with queen-high on a board of
, firing out a bet of 50,000 to force the 2021 WSOP bracelet winner off pocket 9's.
That was pretty much the last of it for the "Poker Brat," however. Shortly after, he ran into some more bad timing when he called a preflop raise with
and then would check-raise the turn to 60,000 on a board of
before shutting it down on the river. Koon bet out big with
for trips and jumped into nearly a 10-1 chip lead.
Hellmuth added a small amount to his stack before calling a bet with
on a
flop. Both players checked the turn and saw the
on the river, which paired up Koon's
. Koon bet 36,000 and was called by king-high, sending Hellmuth into full tilt mode.
"Come on, what the f**k?" a frustrated and card-dead Hellmuth screamed. "How many cards are you going to get? He tried to bluff it off and double me up just like I knew he would."
Not long after, the match ended in a fitting manner. Koon raised to 12,000 with
and was three-bet to 35,000 from
. Koon decided it was time to dance so he jammed all in and was snap-called for 103,000 total.
The board would run out
, giving Koon top pair and the best hand. That officially ended what was a one-sided heads up poker match.
What's Next for High Stakes Duel?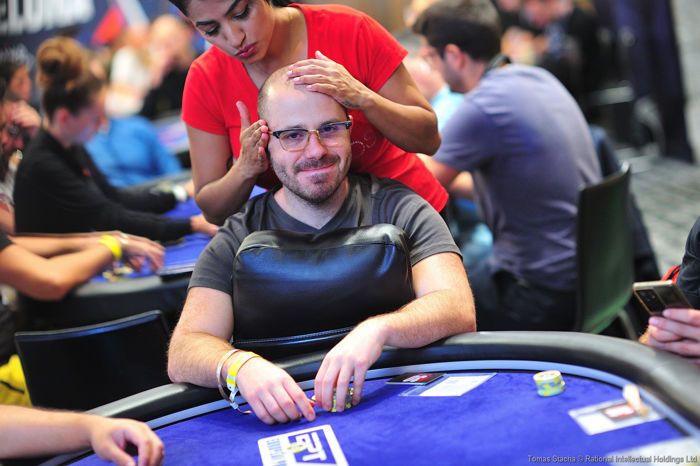 Had Hellmuth won, he could have cashed out due to winning three consecutive matches. In total, he would have profited $1,350,000 as he was in for $250,000 total. High Stakes Duel contests begin with each player paying $50,000 to enter Round 1 and then the prize pool doubles each round, but only the losing player or new challenger is on the hook to increase the pot each round.
In the case of Round 5, Koon paid $800,000 to double the pot, but he cannot cash out yet. Hellmuth now has the option to challenge him to a rematch, but he'd be required to pay $1.6 million to get back in the game, creating a pot of an unthinkable $3.2 million.
If Hellmuth drops out, Koon will face someone else in Round 6. During Wednesday's show, PokerGO commentators Ali Nejad and Nick Schulman discussed potential opponents, which included Hellmuth (he gets first dibs), Wiktor "limitless" Malinowski, and Dan Smith.
High Stakes Duel III began in July 2021 with Hellmuth coming from behind to defeat FS1 sports talk blowhard Nick Wright, who declined a rematch. Tom "durrrr" Dwan then stepped into the box for Round 2 ($200,000 pot), and dealt the 1989 world champion his first loss in eight matches on the show.
Hellmuth would get revenge in Round 3, beating Dwan for the $400,000 pot in January 2022. After "durrrr" was unable to make it to Las Vegas in time for Round 4 in May, Scott Seiver served as the replacement and promptly lost.
It's now up to Hellmuth to decide if he wants to give it another shot. If not, it will be the first time he doesn't compete in a High Stakes Duel match.
Read a Complete History of High Stakes Duel
*Images courtesy of PokerGO.