Felipe "lipe piv" Boianovsky Wins PokerStars SCOOP $10K Main Event for $1,036,200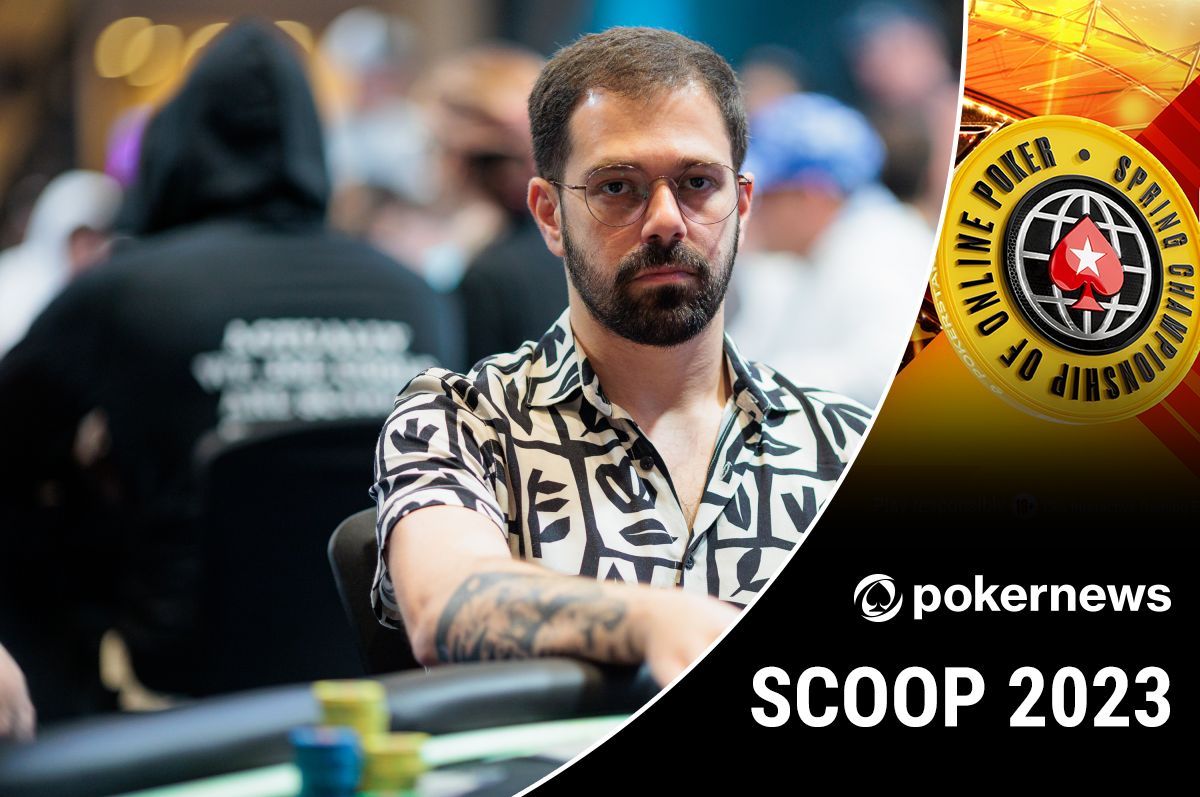 The $10,300 buy-in high version of the 2023 PokerStars Spring Championship Of Online Poker (SCOOP) Main Event is now in the books and Felipe "lipe piv" Boianovsky took down the top prize for $1,036,199. He made it through 587 entries to take down the biggest share of the $5,870,000 prize pool.
Boianovsky battled through a gruelling heads-up battle against Laszlo "omaha4rollz" Bujtas, and both players had the lead at various points through the heads-up phase. Neither player was shy about getting chips into the pot either for value or on audacious bluffs.
Boianovsky took his final big lead after hero-calling a pair of queens on an ace-high draw heavy board. Bujtas couldn't recover from that, and the game was done shortly after.
$10,300 SCOOP Main Event Final Table Results
| Place | Player | Country | Prize |
| --- | --- | --- | --- |
| 1 | Felipe "lipe piv" Boianovsky | Brazil | $1,036,200 |
| 2 | Laszlo "omaha4rollz" Bujtas | Hungary | $768,359 |
| 3 | Paulo "paulinhoo00" Brombin | Brazil | $569,751 |
| 4 | DingeBrinker | Estonia | $422,480 |
| 5 | Deiv4za | Lithuania | $313,277 |
| 6 | WelcomelNnferNO | Austria | $232,300 |
| 7 | Daniel "DaniC19941893" Custodio | Brazil | $172,255 |
| 8 | hello_totti | Mexico | $127,729 |
| 9 | Landon "AnyExtras" Tice | United States | $100,011 |
Main Event Action
The four-day Main Event High kicked off on Sunday, May 28, with 515 entries by the time the day finished. Entries were still open until the start of Day 2, and in the end, there were 587 total entries in the game for a prize pool of $5,870,000.
Some 235 players returned on Day 2, and they made the 71 money spots before they bagged up for the night with 40 left. There was good representation from PokerStars Team Pro on Day 2, but none of them managed to make the money. Rafael "GM_VALTER" Moraes had the best result, but he fell about 15 places shy of the money spots.
Among the players with big dreams on Day 3 was Mike "SirWatts" Watson, who started May with his second EPT title in Monte Carlo. He brought the second-biggest stack to Day 3 of the Main as well as the biggest stack to the final table of the Super High Roller. Watson ended up third in that Super High Roller while coming 16th in the Main.
Have you checked out the PokerNews Online Tournament Calender yet? Our awesome free tool allows you to find your favorite poker tournaments without having to fire up the poker client! Try it now, set some filters, and find your perfect poker tournament.
When the dust settled on Day 3 with nine players remaining, "Deiv4za" had the big stack of more than 28 million, and led three players with more than 20 million stacks. The action started quickly with two eliminations in the first full level of play. They got down to seven left before the end of the next level, with runner-up Bujtas building the biggest stack.
They were six-handed for almost an hour before defending champion "WelcomelNnferNO" got it in preflop with ace-three suited only to run into kings of Paulo "paulinhoo00" Brombin. Start of the day chip leader "Deiv4za" followed shortly after, and then they played four-ways for almost two levels.
Again, two quick eliminations got the tournament to the heads up, where things slowed down once again. The lead went back and forth, with both players making excellent calls, audacious bluffs, and thin value bets throughout.
The big turnaround for Boianovsky came when he turned the nut straight against an overpair for a huge double to more than 100m. Bujtas managed to claw some back with a double, but couldn't manage to spin it back to the lead, ending his run on a bit of a heads-up cooler with king-nine suited into the ace-ten for Boianovsky.
Relive all the action from the $10,300 SCOOP High Main Event
"rolandinjo" Takes Down $1,050 SCOOP Main Event
Latvia's "rolandinjo" is the 2023 PokerStars SCOOP $1,050 Main Event champion and recipient of a cool $600,640 payout. The Latvian sat down at the final table third in chips, with a stack less than half of the start-of-the-day chip leader Vicente "vicenfish" Delgado
"rolandinjo" eliminated Delgado in sixth place in cruel circumstances. A brief raising war between "rolandinjo" and Delgado resulted in the former four-bet jamming with king-jack, and Delgado calling with the dominating ace-king. Delgado's hand remained best until a jack landed on the river, sending Delgado to the rail, and "rolandinjo" to what turned out to be an unassailable chip lead.
The champion elect went into the heads-up clash with "moffo13" holding an almost four-to-one chip advantage, and it proved too much of a bridge for "moffo13" to gap. "moffo13" emptied the clip after missing an open-ended straight draw, and "rolandinjo" called his bluff with middle pair to clinch the victory.
$1,050 SCOOP Main Event Final Table Results
| Place | Player | Country | Prize |
| --- | --- | --- | --- |
| 1 | rolandinjo | Latvia | $600,640.75 |
| 2 | moffo13 | Croatia | $424,715.72 |
| 3 | Gabriel "aaurelio" Moura | Brazil | $300,318.49 |
| 4 | bombon73 | Ukraine | $212,358.57 |
| 5 | Bretera | Brazil | $150,160.66 |
| 6 | Vicente "vicenfish" Delgado | Andorra | $106,179.78 |
| 7 | 2ndOnly2God | United Kingdom | $75,080.04 |
| 8 | IReadB00ks | Malta | $53,090.81 |
| 9 | FAPTOBbIY_BACK | Switzerland | $37,540.23 |
Find all of the $1,050 SCOOP Medium Main Event updates here
"Sodaski" Wins the $109 SCOOP Main Event for Ukraine
Some 22,663 PokerStars players entered the $109 No-Limit Hold'em Main Event, and Ukraine's "Sodaski" outlasted them all to claim the victory and the $232,581 first-place prize.
Start-of-the-day chip leader "PokerHorst" looked to be in danger of running away with the show, but "Sodaski" scored a timely double-up early into three-handed play before sending "BluffyRabbit" to the rail in third, which saw the eventual champion claw their way back into contention.
The final hand saw "PokerHorst" check-raise all-in with a pair of aces on the turn, only to discover "Sodaski" had turned a diamond flush, rendering the river inconsequential. "PokerHorst" took home $165,777 for second place, leaving "Sodalski" to claim the title and $232,581.
$109 SCOOP Main Event Final Table Results
| Place | Player | Country | Prize (USD) |
| --- | --- | --- | --- |
| 1 | "Sodaski" | Ukraine | $232,581 |
| 2 | "PokerHorst" | Malta | $165,777 |
| 3 | "BluffyRabbit" | United Kingdom | $118,171 |
| 4 | "URIEL_ROCK" | Argentina | $84,236 |
| 5 | Matheus "bolonhax" Freitas | Brazil | $60,046 |
| 6 | Daniel "dani aziz" Aziz | Brazil | $42,803 |
| 7 | "LUCKXXXL" | Ukraine | $30,511 |
| 8 | "nonni77" | Iceland | $21,749 |
| 9 | "xGGJ88x" | Luxembourg | $15,503 |