76ers Injury Update: PG Tyrese Maxey (Foot) Out 3-4 Weeks – Casino.org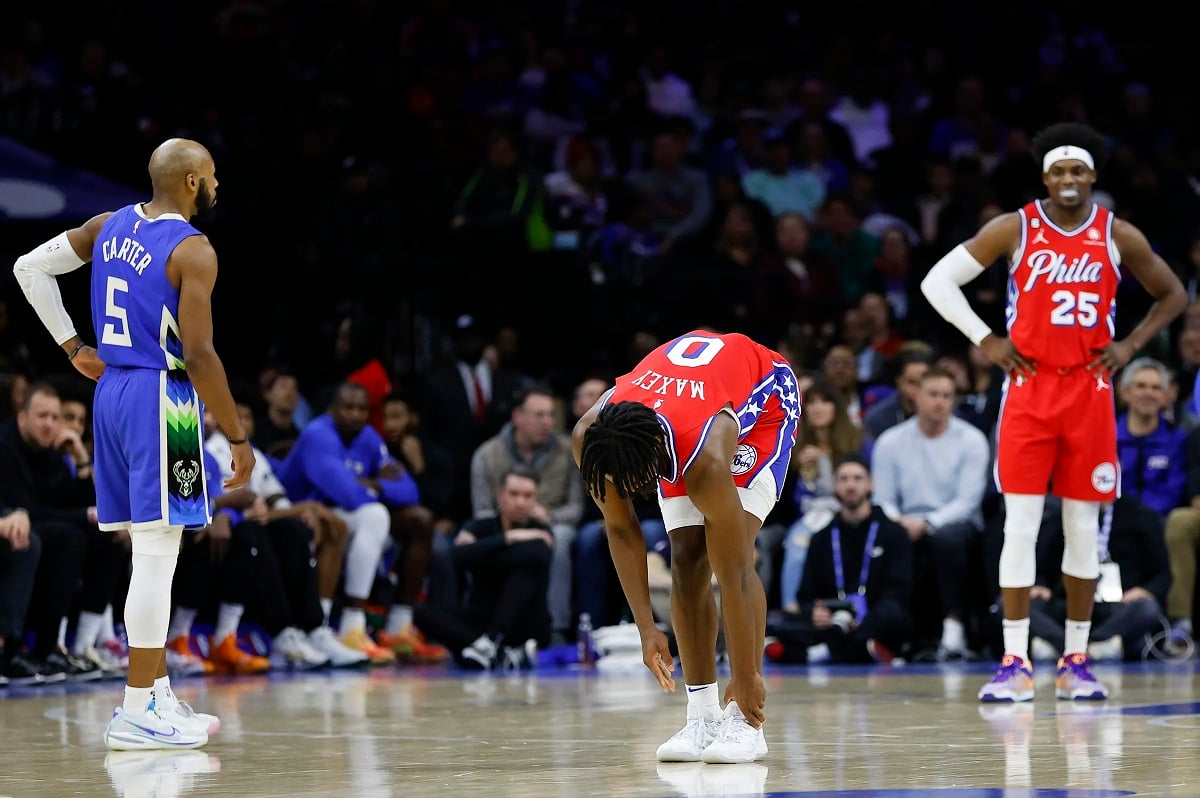 Posted on: November 21, 2022, 10:06h. 
Last updated on: November 21, 2022, 10:06h.
The Philadelphia 76ers lost another vital starter and playmaker when point guard Tyrese Maxey exited Friday night's game against the Milwaukee Bucks with a left foot injury.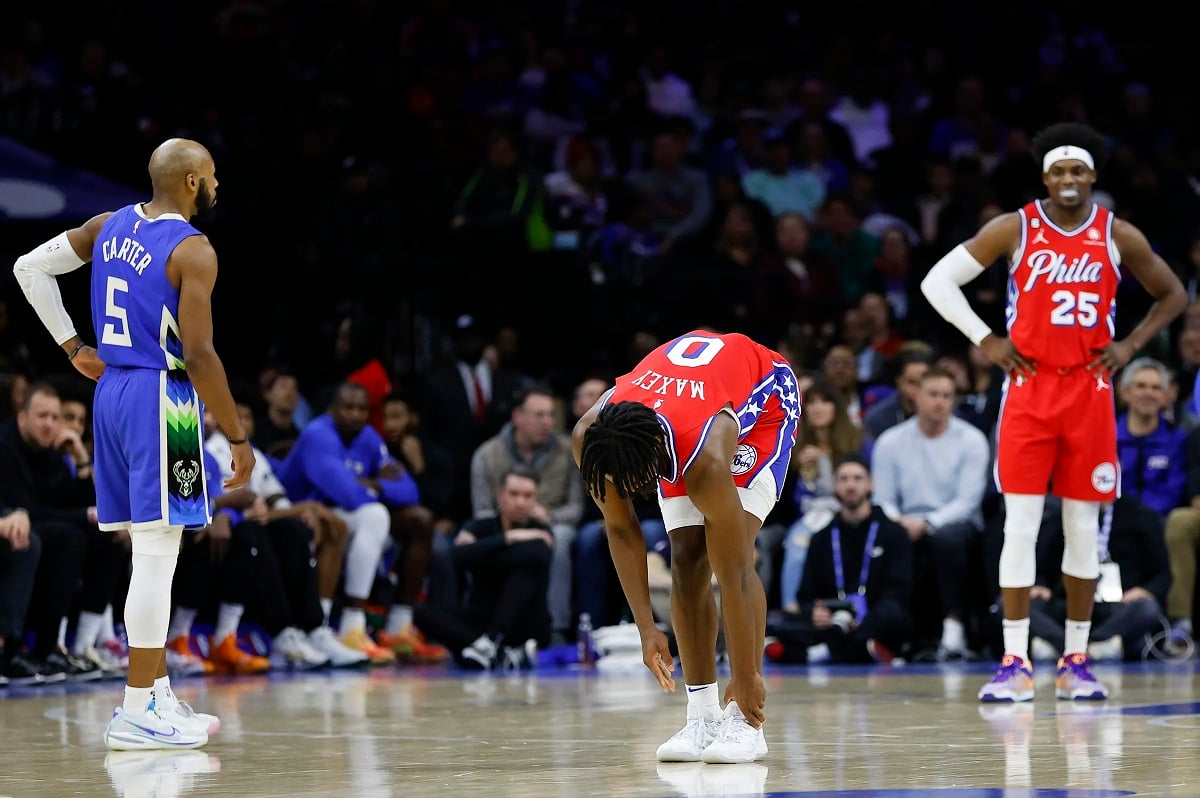 The Bucks fouled Maxey during a fast break attempt late in the second quarter. Maxey awkwardly landed on the hardwood. He exited the game shortly afterwards, and never returned.
Max said what he always says: 'Coach, I'm good,'" said 76ers head coach Doc Rivers. "But, I had a bad feeling. I don't know if he'll be good right away, was my guess."
At the time of the injury, Maxey had scored 24 points on 9-for-12 shooting in just 21 minutes. Without Maxey in the second half, the 76ers held off the Bucks to win.
Streaky 76ers
The short-handed 76ers are treading water with an 8-8 record after a horrible start. They lost their first three games of the season, and started 1-4 before winning three games in a row to pull an even .500 at 4-4. The streaky 76ers then lost three out of their next four games, before bouncing back with another three-game winning streak that got them back on track.
The 76ers lost on Saturday, 112-109, in a close game against the Minnesota Timberwolves even though they did not have their starting backcourt in the lineup. Maxey joins shooting guard James Harden on the injury list after he missed seven games with a strained foot tendon.
The 76ers were +1800 odds last week to win the 2022-23 NBA championship. However, after the Maxey injury, oddsmakers adjusted their title odds to +2200.
The 76ers are now tied for third with the Toronto Raptors to win the Atlantic Division at +1600 odds. The Boston Celtics are the consensus favorite to win the Atlantic at -700 odds, followed by the Brooklyn Nets at +900 odds.
Maxey: Unfortunate Pause on Career Season
The 76ers initially diagnosed Maxey with a shin injury when X-rays were negative on Friday evening. However, Maxey underwent further testing over the weekend, and an MRI indicated he had a foot fracture injury.
Maxey will miss a minimum of three to four weeks. He could undergo surgery, but it's unknown if that route could expedite his recovery, or add more time. The 76ers will make that call later this week after Maxey gets a second opinion.
In his third season with the 76ers, Maxey is putting up career-best numbers. He averages 22.9 points, 4.4 assists, and 3.5 rebounds per game this season. He's also shooting 42.2% from 3-point range.
When Harden went down, both Maxey and Joel Embiid increased their scoring output. Embiid leads the NBA with 32.3 points per game, but he's averaging 37.3 points in November. Dating back to the last two weeks, or previous four games, Embiid averages 41.3 points per game thanks to a 59-point explosion in a victory over the Utah Jazz last Sunday.
Doc Rivers to Lean on Melton, Matisse, and Shake
The 76ers acquired guard De'Anthony Melton in the offseason from the Memphis Grizzlies to bolster their bench. Melton averages 9.6 points, 4.5 assists, and 3.1 assists per game this season. Melton earned a promotion to starting shooting guard when Harden was sidelined in early November.
Rivers will rely on backup guards — Shake Milton and Matisse Thybulle — to fill in for Maxey and Harden.
Milton is a streaky shooter who is averaging 6.8 points, 2.4 rebounds, and 1.8 assists off the bench this season. However, he's posting a career-low 31.3% from 3-point land.
Thybulle started 50 games last season, but Rivers benched him this season. He's averaging a career-low 1.3 points, 1.3 rebounds, and 0.3 assists in under 12 minutes of floor time per game this season. To complicate matters, he's shooting ice cold from 3-point range averaging 17.6% from beyond the arc. Thybulle has the opportunity to get out of Rivers' dog house with two starters sidelined.
Harden is expected to return to action in early December. The 76ers are 4-2 without Harden, but they'll have to play anywhere from six to eight more games before he returns to the starting lineup.
The 76ers have a busy end of November with six games on the schedule. They also have two games slated in the first week of December that Harden could miss.
Six of the their next eight games are on the road with the 76ers hosting home games against the Brooklyn Nets (8-9) and Atlanta Hawks (10-6). The 76ers hit the road to play bad teams like the Charlotte Hornets (4-14), Houston Rockets (3-14), and the Orlando Magic (5-12) in a back-to-back series. Yet, the 76ers also face difficult road opponents including the Cleveland Cavs (10-6) and Memphis Grizzlies (10-7).