Events
What's Headed to Las Vegas?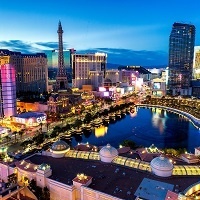 The Global Gaming Expo is taking place in Las Vegas in just over a week. This Week in Gambling will be attending, and shooting video footage at the event and out on the Strip. But while we're heading down to Sin City for business, we thought some of you may want to know what other interesting things are happening there, and destined to change the city in a few months and over the next year!
Marijuana on The Strip

First up, let's talk about marijuana. Nevada is one of the states where pot is legal within certain restrictions, and a walk down Las Vegas Boulevard will usually bring the sweet aroma of cannabis to your nose. But technically, smoking pot out in public is not legal. In fact, there are no dispensaries on the Strip at all… although a few are close. And if you want a real downer to your high, smoking or consuming Mary Jane in your hotel room is a "no no" as well.
While 'the man' will probably not be looking to give you a hard time over something like this, Vegas will soon be opening legal cannabis consumption lounges. Those lounges may even be open before the end of the year. Those lounges will probably be put into existing adult only dispensaries, or perhaps new independent lounges that will also sell marijuana and cannabis products. There may even be some casinos and hotels that put lounges in, but there's no word on that yet. Visitors can use single-use portions to smoke, vape, use topicals, and consume edibles.
MSG Sphere at the Venetian
No, we're not talking about Monosodium glutamate or keeping it out of your food delivery. We're discussing the Madison Square Garden Entertainment spherical structure that is being build adjacent to the Venetian, across from the convention center. If you haven't heard of it, or noticed it on a visit, it is over 500 feet wide and 360 feet tall globe that will eventually be covered with over a million, fully programmable LED panels. Sound interesting so far?
The exosphere, as they are calling it, will be a 580,000-square-foot theater and host a huge variety of live and pre-taped attractions. It could be used for boxing, wrestling, concerts, corporate events and perhaps even e-sports events. Inside there will be a huge, curved display of over 160,000 square feet, which is larger than three football fields! And it will have a resolution over 80 times better than today's best HD TVs that wraps from behind the stage over the top of the seating sections and behind the audience! The MSG Sphere is scheduled to open in the second half of 2023.
Las Vegas Formula 1 Grand Prix
If you've ever walked down Las Vegas boulevard, you undoubtedly have seen tourists racing their exotic rental cars. And while their displays of speed may have you rolling your eyes (or running for cover) there will be a fully sanctioned car race right down the Strip next year, when Formula 1 rolls into town in the form of the Las Vegas Grand Prix! Slated for a Saturday in November of 2023, the race cars will run right past the hotels and casinos at break neck speeds!
The neon lights of Sin City will serve as an amazing backdrop for Formula 1's third race in America, and they have already purchased nearly 40 acres on the northeast corner of Harmon and Koval for $240 million. That land will be used for a pit and paddock section for the race. Plus, rumors of a permanent Formula 1 experience being build on or near the Strip in early 2023 has many excited! That attraction should be completed and in place before the big race!
Moon Resort Las Vegas
Ever wanted to go to the moon? Private space companies too expensive? Well, the new Moon Resort Las Vegas may be an answer to your prayers! The company Moon World Resorts is launching a $5 billion hotel and casino project that is damn near out of this world… literally. The resort plans a moon replica that will stand 735 feet tall and 650 feet wide that can hold 4,000 guest rooms! The resort will also have a 75,000 square-foot spa, 75,000 square-feet of retail space, 150,00 square-feet for nightclubs and lounges!
Yes, yes… there will be a theater, an arena, and a casino too. But a planetarium? That's new! And while there won't be any micro-gravity to speak of, perhaps the most interesting aspect of the new property will be what they're calling the active lunar colony in the upper half of the sphere! The area will mimic the actual lunar colonies currently in the active planning stage by NASA. Guests will also be able to spend 90 minutes exploring a 10-acre space in a "moon buggy", complete with craters, for the handsome fee of $500… which sounds pricey, until you consider the $450,000 price tag for a 90 minute flight on Virgin Galactic.
Las Vegas Underground Transit
Yes, we know you've probably heard of this one. But did you know that the Elon Musk boring project will soon connect the Strip, the Convention Center, and stretch all the way to Resorts World? Well, now you know for sure! So when a catching a ride with the surface dwellers just isn't for you, the underground world of transportation in Sin City is alive and well! And when this latest phase is finally complete, it should be able to transport about 2,000 passengers per hour!
The extensive and growing tunnel network should end up covering an area of about 35 miles, and when it's finished there will be 55 stations! The construction of the Vegas Loop in downtown is supposed to start sometime next year. The system will be relatively inexpensive for riders, with a trip from Fremont Street to the Harry Reid Airport  costing just about $12. Of course, that's once all the connections are made… and if everything stays on schedule!
Related