U2 Opens the Las Vegas Sphere Tonight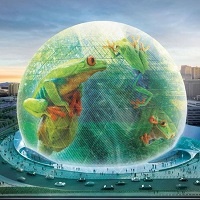 First, the Las Vegas Sphere lit up. Now it's time for the inside of the building to light up as well! Legendary band U2 kicks off the new venue this evening, probably welcoming fans to a beautiful building with "It's a Beautiful Day", but who knows. We're just excited that the day is finally here!
Yes, this amazing new concert venue is finally ready to welcome guests, and anticipation is high as U2 hits the stage. Their concert series will kick off a series of over two dozen shows over the next several months. The inner workings of the Las Vegas Sphere remain somewhat mysterious, but both locals and visitors have been amazed by tantalizing previews.
The Sphere project, costing over $2 billion, is equipped with a mesmerizing sound system boasting 160,000 speakers and a staggering 260 million video pixels. With a seating capacity of up to 20,000, attendees will be welcomed by a humanoid robot upon entering this immersive experience
Sitting just off The Strip behind the Venetian, the Las Vegas Sphere and its groundbreaking external digital screen has been dazzling Vegas visitors ever since it lit up on the Fourth of July weekend. In the months that have passed it has showcased a vibrant array of visual elements, from emojis to stunning, colorful images. Tickets for the inaugural U2 concert are priced starting at approximately $400, and parking at The Sphere comes at a cost of $100 to $125. Ouch!