The Truth About Las Vegas Water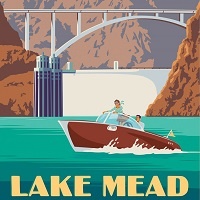 There are new federal and state restrictions for Las Vegas water, plus Lake Mead is at historically low levels! What will these new mandates mean for the Bellagio fountains and the Venetian gondolas? What will they mean for your next trip to Las Vegas? Could Lake Mead run out of water? Let's answer these questions once and for all!
Hello friends, Jay Todd out here in front of Bellagio, and what better place to talk about water conservation in southern Nevada than one of the biggest free attractions on the Strip… the Bellagio fountain pool. New federal bans on man-made lakes and fountains mean that you probably will never see any new Las Vegas water attractions like these again. Of course, Bellagio is not the only resort in Las Vegas using water to attract guests and visitors. So let's discuss what this federal mandate means for the city and all of Southern Nevada.
Water restrictions have officially come to Las Vegas as the drought across the American southwest continues. New federal mandates and conservation measures, along with falling water levels at Lake Mead, have some concern about the future of water and the city. In this article we will look at new federal mandates and state water restrictions, what they mean for Las Vegas, and if Lake Mead could really run out of water.
First, Federal mandates were put in place after the U.S government declared a water shortage for the Colorado River… the primary source for Las Vegas, restricting the amount of water Nevada can  pull from Lake Mead. At the state level, there is a moratorium on ornamental water features for casinos, and residents must follow a mandatory watering schedule. The governor also gave the local water authority the power to restrict water usage in people's homes! And there are fees for using too much water. But will these restrictions be enough?
Let's look at the 22 million gallon Bellagio Lake and its fountain show. While it's certainly the most famous water feature in town, it's not the only one. Venetian has canals and gondolas, and the 130 acre Wynn Golf Club uses over 100 million gallons of water every year for irrigation. But believe it or not, none of that Las Vegas water comes from Lake Mead. It's all groundwater, pumped from private wells at the casinos and is not restricted… at least not yet.
But what about those beautifully landscaped ponds and streams at Mandalay Bay? Or the fountains and pools scattered about the property at Caesar's Palace? Well, some resorts have already started to remove these sorts of features, like you see here at Excalibur where rocks have replaced water. And here at New York New York, where there used to be a water feature in in front of the Statue of Liberty. So where does most of the water from Lake Mead go?
The short answer is to the 40 million tourists like you and me! The average hotel guest in Las Vegas uses over 60 gallons of water per day taking a shower, brushing their teeth, and flushing toilets. Plus, what's used to wash those dirty sheets and towels. There are also about two hundred thousand pools in Las Vegas, each with an average of 20,000 gallons of water. And there are more than 4,000 restaurants, each consuming about 1400 gallons per day. Lake Mead is now at historically low levels, with the threat of a Deadpool status looming. And if and or when that happens, what will it mean for  the Bellagio Lake? Those Venetian gondolas? And the future of the city?
While the Bellagio Lake and the Venetian gondolas are not going anywhere, the odds of seeing any future resorts with Las Vegas water features on that scale is almost zero… even if they do pump their own groundwater. Since 1990, all new resorts in Las Vegas have been required to create and submit water conservation plans demonstrating responsible usage for everything from Landscaping to guest rooms. Resorts use about seven percent of the water from Lake Mead, and many have installed low flow shower heads and faucets, changed to desert landscaping, and are asking guests to reuse towels. They also capture the water that flows down drains from showers and sinks, treat that water, and return it to Lake Mead. In fact, Las Vegas cleans and returns 97 percent of the water  they take from the lake, which/
This brings us to our final topic: Could Lake Mead really run out of water? And the short answer is: it's not likely! Not as long as the Colorado River continues to flow. Yes, the last time Lake Mead was full was 1983. and yes, the threat of Deadpool status is still very real. But if and when the lake reaches that state, it simply means no water is flowing downstream. That's bad news for California, Arizona, and Mexico, but it would have little to no impact on Las Vegas. Their pump stations sit below water level even… at Deadpool status!
So if that time comes, Las Vegas water could actually benefit with no water flowing out of Lake Mead, but the Colorado River still flowing in. So, my friends… enjoy the water show show! Take that gondola ride! There may not be any new water attractions coming to Las Vegas, but the old ones aren't going anywhere.
Related