Las Vegas in Getting More Expensive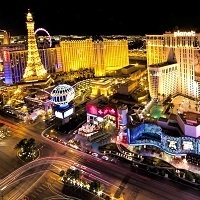 Las Vegas is always changing, and coming out of the pandemic it seems no city bounced back stronger. It's no longer just a destination to do some gambling, see a show, and grab a cheap steak dinner. It's so much more, and you're probably going to pay for that.
Sin City is now a prime location for top-notch entertainment. It has become a place for artists in residency, fine dining, and major league sports. And executives at some of the biggest gambling companies are taking notice, and possibly seizing on the opportunity.
Tom Reeg, CEO of Caesars Entertainment, recently commented that "…back in our parents' day, it was a very different market, low value, you get steak and lobster for a couple of bucks… Now you're talking about one of the best food and beverage scenes in the world…"
Not only that, but professional sports teams now call the city home. The  Golden Knights, an NHL expansion team, were followed by the relocation of the NFL's Oakland Raiders to a stadium just off The Strip. Now, the Oakland A's baseball team is also headed to town, and there's even a Formula 1 race this fall.
"You see the Raiders come to town. You see Formula 1… The people that come to see those… tend to be a better average customer." Reeg noted. And better customers mean more money to spend. He noted that the city is now seeing "higher-value" customers, even with current high occupancy rates.
This growth of these big events in Las Vegas not only means more visitors filling up hotel rooms, but they also draw a higher level of clientele. "I think you've seen Vegas as a market do a fantastic job of continuing to add events. And in the case of sports franchises or Formula 1 that bring a significantly more valuable customer to the market.
"So you're kicking out the lowest end…" Reeg notes before adding, "I see no reason that that needs to stop…"
Related Stories: